Quality Wines from Chile
The Conde de Velázquez wines, named after the 18th century Spanish noble/landowner and folklore legend of the Aconcagua valley, Don Raphael De Velázquez, are Estate Bottled at Viña San Esteban in the Aconcagua Valley.

The unique climate and soil of the sunlit high valley, combined with the blending skills of winemaker Horacio Vicente Mena, have made the Conde line a exceptional collection of premium wines, including our Varietals, Reserva, Gran Reserva and Limited Production Premiums, including our Condesa Real Premium Blend, rated 91 by Wine Enthusiast.

Today, we are committed to producing top quality wines in a sustainable and environmentally-friendly manner.
New Releases
Click here to see our new releases.
Where to Buy:
Spec's stores and Spec's online (Texas Residents only)
Eggemeyers General Store, San Angelo, Texas
Our Story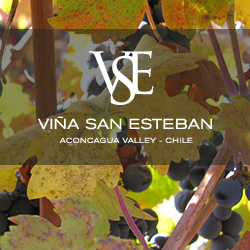 Conde de Velázquez wines have been Estate Bottled by the well-established Viña San Esteban of central Chile's Aconcagua Valley since 2002.
Read more...
El Conde

One of the first Spanish explorers to visit the Aconcagua was El Conde (The Count) Raphael de Velázquez. Today his name is given to some of the best wines from San Esteban and the Aconcagua Valley.